Rutherford Roofing specializes in new roofs, re-roofs, and roof repairs for residential and commercial roofing systems in the greater Quad City area.
When it comes to your home you should always invest in a qualified roofing professional. Our in house roofing crews are manufacturer trained roofing installers and use pro grade roofing materials and equipment to provide a quality roof that will last the test of time.
Services Offered By Rutherford Roofing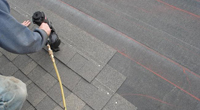 New Roof Installations
We provide all types of residential roofing system installations. type and size roofing project including, asphalt roofing, composite shakes, wood shakes, rubber roofing systems, and EPDM roofing systems. We always strive to distinguish ourselves from the pack by providing a positive and professional experience to our clients with on schedule completion. We aim to surpass each of our clients expectations.
Re-Roofing Services
Rutherford Roofing provides shingle over and full roof tearoff services. We provide Victorian home roof replacement, including full roof tear offs requireing new roof sheathing, flashing, drip edge metal, and ventilation. Our roofing crew has all the experience and equipment necessary to handle any roofing project.
Roof Repairs | Roof Maintenance
We provide full roof repair and maintenance services. From blown off shingles, to tree damage, to flashing issues our crew can quickly and professionally handle any roof repair issues you may have.
Rubber Roofing | EPDM Rubber Roof Systems
Rutherford Roofing provides EPDM Rubber Roofing installations for residential and commercial applications. Rubber roofing is a cost effective way to handle vertually all low slope roof applications. Call us today to discuss the rubber roofing installation options that we offer.
Roof Inspections
Whether your buying, selling, or appraising we can help answer any questions you have about the condition of the existing roof and flashing. We will determine the general condition of your roof, it's life expectancy, and determine any maintenance or repairs needed.
Fast, Professional, and Competitive Roofing Services in the Quad City area.