Rutherford Roofing specializes in new roofs, re-roofs, and roof repairs for residential and commercial roofing systems. Whether you have a emergency roof leak requiring immediate assistance or would like to schedule a free on site roof estimate, please contact Rutherford Roofing at ( 3 0 9 ) 9 4 5 - 2 2 8 5.

When it comes to your home invest in a residential roofing specialist. Our in house roofing crews are manufacturer trained and use pro grade equipment and safety measures to provide our clients with a quality roof that will last. If your searching for a professional, local roofer, Rutherford Roofing can accommodate all your roofing needs.

Services Offered By Rutherford Roofing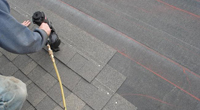 New Roof Installations
Re-Roofs - Shingle Over
All Roof Types - Asphalt, EPDM Rubber Roofing, metal
Victorian Roof Replacement - Sheathing
Seamless Gutter Installation
Roof Maintenance
Roof Inspections
New Roof Installations
Specializing in all types of residential roofing installations. Rutherford Roofing can handle any type and size roofing project including, asphalt roofing, composite shakes, wood shakes, rubber roofing systems, and EPDM roofing systems.
Re-Roofing Services
Rutherford Roofing provides Victorian home roof replacement, including roof tear off, new sheathing, flashing's, drip edge, and ventilation. Our roofing experts have the experience and equipment necessary to complete all residential re-roofing projects.
Roof Inspection & Roof Maintenance Program
Whether your buying, selling, appraising, or renovating, knowing the condition of your roof can drastically change the status of the sale or scope. Our roof inspector will determine the general condition of your roof, it's life expectancy, and determine any maintenance or repairs needed. We provide a clear unbiased expert assessment of your roofs condition in PDF format for easy transmittal.
Fast, Professional, and Competitive Roofing Services in the Quad City area.